Ultimate PC Protection for Your Home For the ultimate PC security solution, choose Kaspersky PURE 3.0 Total Security.
Kaspersky PURE 3.0 Total Security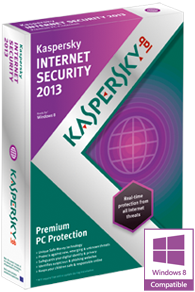 Kaspersky's ultimate PC security suite, Kaspersky PURE 3.0, has everything you need to secure your online financial transactions, digital identity, documents, photos, music, passwords, and more. It's security tailored to your lifestyle.
In today's always-online, share-everything environment, it's not enough to simply run an antivirus utility and turn on the Windows Firewall. As the threats to your PC's security become more sophisticat-ed, your security software has to be smart enough to counter those attacks and nimble enough to be able to keep up with your various online activities.
Core Protection
Kaspersky PURE 3.0 offers the ultimate in protection against exist-ing and unknown threats. It's capa-ble of stopping malware infections in realtime. In addition, its Auto-matic Exploit Protection works to keep software and operating system vulnerabilities from giving cyber-criminals easy entry to your home network. If your computer does be-come compromised, you can quick-ly and easily roll it back to an un-infected state. And Kaspersky PURE 3.0 is smart about how it scans and updates, making sure you experi-ence little to no performance impact while using your PC.
Antivirus & Beyond
The suite features advanced secu-rity technologies designed to secure your digital identity. The Safe Money feature protects your online shop-ping and banking transactions, and the Secure Keyboard feature pro-tects your privacy when you're fill-ing out forms online. The software also features a two-way firewall to prevent hacker attacks, anti-spam to block unsolicited emails, appli-cation control to prevent malicious applications from launching, and parental control features that let you limit, block, and monitor children's PC & Web use.

Safeguard Your Digital Assets
Kaspersky PURE 3.0 goes above and beyond typical security suite offerings with a fully integrated password manager, automatic backups that you can schedule to suit your lifestyle, 2GB of free cloud-based storage, encrypted file transfers, a digital file shredder to ensure things you want deleted stay deleted, and PC cleanup tools to keep your system running fast. Best yet, Kaspersky PURE 3.0 lets you manage the security of all your PC's from a single dashboard on one machine.
Award-winning protection against Internet threats
By combining our latest antivirus technologies – running on your PC – plus the far-reaching benefits of the cloud, Kaspersky PURE 2.0 provides more comprehensive security than 'cloud only' packages can offer. Keep safe from malware and phishing websites while you're online – shopping, banking and social networking.
Protect your whole family
Award-winning features help to protect your children and your information. You can control access to the Internet, applications, games and websites – plus limit or log Instant Messaging and social networking. Kaspersky PURE 2.0 can even block the transfer of phone and credit card numbers.
Protect your identity
Advanced features help to keep your identity secure while you're online. Password Manager generates strong passwords, stores them in an encrypted vault and automatically logs you on to websites and applications. The latest anti-phishing technologies help prevent online fraud – plus an on-screen Virtual Keyboard helps ensure credit card numbers aren't stolen by keyloggers or identity thieves.
*Password Manager is not available for all x64 operating systems, applications or browsers.
Protect your digital assets
Kaspersky PURE 2.0 lets you schedule automatic backups – to an external drive or USB device – to protect your photos, music and financial documents in case of theft or a hard disk fault. For added security, you can easily encrypt your sensitive, personal information.
Boost your PC performance
Because your PC stores deleted files and your browsing history, that can affect performance and compromise your security. Keep your PC running smoothly – by permanently "shredding" your documents and deleting your surfing history, temporary files, cookies and Recycle Bin.
Easily manage your security – across multiple PCs
Now, it's easier to manage the security of all your family's PCs. Kaspersky PURE 2.0 lets you maintain all security tasks, run scans and updates, perform backups, fix security issues and manage parental controls on all of your home PCs – from the one PC you're using.
Features
Hybrid Protection… the power of the cloud plus the power of your PC Hybrid Protection combines Kaspersky's latest security technologies – running on your PC – plus the speed, efficiency and global security information delivered by the cloud. Kaspersky PURE 2.0 deals with threats faster and more effectively than ever before.
System Watcher… protection from unknown malware System Watcher monitors suspicious activities within applications and allows you to reverse system changes that have been made by malware. System Watcher analyses more events and uses information collected by other components, to provide improved detection of new, unknown threats.
File Advisor… instant information from the cloud By clicking 'Send reputation to KSN' (Kaspersky Security Network), you can get information on the reputation of any executable, application or script. Instantly receive information from the cloud about: filename, size, date created and last modified, threat rating, digital signature, geography, distribution, and more.
Home Network Control… easy management of multiple PCs Kaspersky PURE 2.0 includes Home Network Control – which allows you to manage and protect multiple PCs, via a single PC. Home Network Control enables you to run scans, updates and backup tasks; fix security issues; update security licenses; and even lets you remotely manage parental controls.
Password Manager… convenient and secure Simply remember one master password, and Kaspersky PURE 2.0 will take care of all your other passwords – generating strong passwords, encrypting account information and automatically logging you on to websites and applications.
Parental Controls… safer for your children Working from your own PC, Kaspersky PURE 2.0 lets you remotely monitor and/or limit your children's PC usage, online activities and communications. Kaspersky helps you to ensure they're safe and responsible online – even when you can't be by their side.
Backup and Restore… protect precious files Backup and restore features help you to protect your precious photos, music and financial documents – in the event of theft, loss or a hard drive crash. You can also encrypt your sensitive, personal information – so it's even more secure